Pin It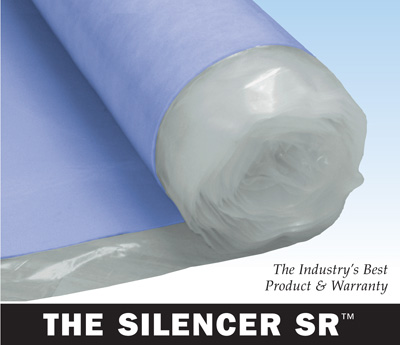 The Silencer SR™
Acoustical Underlayment with
Moisture Barrier For Laminate
and Floating Wood Floors
Reduces floor noise by providing excellent sound absorption

Exceeds Air Quality and Flammability standards

100% recyclable and environmentally friendly

Contains Ultra-Fresh anti microbial treatment

Quick and easy installation (no additional seaming tape needed)

Eliminates minor subfloor imperfections

Adds thermal value and suitable for use with radiant heat flooring

Silencer SR™ is suitable for all Floating laminates, engineered and hardwood flooring installations.
Offers the best support, moisture protection and sound absorption for your floors.

ADVANTAGES
Reduces floor noise by providing excellent sound absorption
Provides cushioned comfort under laminate and floating wood floors
The Silencer SR™has high density and compression resistance properties that enable your floor to perform to its fullest potential and last a lifetime
The moisture barrier film and tape strip combine to lock out moisture and allow for quick and easy installation
Eliminates minor subfloor imperfections
Contains Ultra-Fresh™ anti-microbial which resists mold, mildew, and bacteria
The Silencer SR™ adds insulation value with an R-value of 2.0
Suitable for use with radiant heat flooring systems

100% recyclable, environmentally friendly, non allergenic and odorless

APPROVED SUBSTRATES
Dry, completely cured concrete (at least 14 days old with HVAC operating)
3/4" interior plywood or OSB flooring
Waterproofing and crack-isolation membranes


Cement backer units

FLOOR PREPARATION
Subfloor should be clean and dry
In geographic areas where concrete subfloors are subject to excessive moisture, a calcium chloride moisture test is required. Vapor emission readings in excess of 4 lbs. per 1,000 square feet in 24 hrs will require additional protection such as concrete sealant or polyethylene sheeting.

INSTALLATION Quick and easy installation* – requires no additional seaming tape, cuts with a knife
Install The Silencer SR™ with film DOWN on subfloor
Roll out underlayment with tape strip next to wall. Roll out next row in same manner butting underlayment close to first row ( do not overlap ) and covering the moisture barrier film. Remove the tape strip and secure the overlapping moisture barrier film
Install flooring according to the manufacturer's installation instructions
*NOT for glue down installations

PACKAGING
Available in 3' x 33.34' (100 sq. ft.) rolls and 6' x 75' (450 sq. ft.) contractor size rolls

TECHNICAL DATA
100% Synthetic SBR Rubber foam underlayment with attached polypropylene film
Thickness — .085"
Density — 16 LBS
Weight — 2.24 oz/sq.ft.
Moisture Barrier — with lip and tape sealing system
Antimicrobial Treatment — ULTRA-FRESH™
Thermal Resistance — R-Value .20
Compression Resistance @ 25% — 8.6 psi
Compression Set @ 25% — 10.3 %
Flammability Rating — Passes Federal — Flammability Standards DOC-FF-1-70
Smoke Density — Passes, 85 max
Product Emissions — Exceeds VOC emissions requirements, environmentally friendly

SOUND ABSORPTION PROPERTIES
Impact Insulation Class (IIC) This method is to measure the impact sound transmission performance of a floor-ceiling assembly (sound transmission through the floor)
IIC – Flooring – Sub-Floor
70 – Laminate – 6" concrete with ceiling assembly
59 – Hardwood – 6" concrete with ceiling assembly

Sound Transmission Class (STC) This method is to measure the air-borne sound insolating property of a partition element for effectiveness in blocking sound
STC – Flooring – Sub-Floor
71 – Laminate – 6" concrete with ceiling assembly
53 – Hardwood – 6" concrete with ceiling assembly

Delta IIC The db rating difference between a floor measured with an underlayment and with no underlayment
Δ IIC 22
THE SILENCER SR .
Price:

0.00


Sold by

HARDWOOD FLOORING DEPOT



Additional Information
| | |
| --- | --- |
| Pricing | CALL 949-453-3300 FOR PRICING |